Events
Spring 2023 Sciame Lecture Series: AbdouMaliq Simone
The Surrounds: The Afterlives of Blackness in a Pacific City
Monday, Mar 20, 2023
6:00 pm - 7:30 pm
Sciame Auditorium (Room 107)
141 Convent Avenue
New York, NY 10031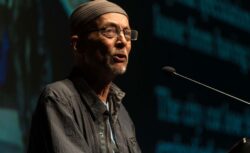 This lecture will be held in person and is part of the Spring 2023 Sciame Lecture Series, titled "Across the Pacific Rim: Architecture and Landscape in Translation."
AbdouMaliq Simone is Senior Professorial Fellow at the Urban Institute, University of Sheffield, Visiting Professor of Urban Studies at the African Centre for Cities, University of Cape Town, and co-director of the Beyond Inhabitation Lab, Polytechnic University of Turin. Key publications include, For the City Yet to Come: Urban Change in Four African Cities, Duke University Press, 2004, and City Life from Jakarta to Dakar: Movements at the Crossroads: Routledge, 2009, Jakarta: Drawing the City Near: University of Minnesota Press, 2014, New Urban Worlds: Inhabiting Dissonant Times, Polity (with Edgar Pieterse, Polity 2017),  Improvised Lives: Rhythms of Endurance for an Urban South (Polity 2018), and The Surrounds: Urban Life Within and Beyond Capture (Duke University Press 2022).
"The Surrounds: The Afterlives of Blackness in a Pacific City": Many interventions are undertaken in the name of sustaining human life. But it is often unclear exactly what this life is that is to be sustained. The ambiguity has been used to erase lives that get in the way of imaginaries and practices of extraction or confine them within the materialization of unjust interpretations. The deployment of the "human" signals an arrival in terms of equilibrating the exigencies of urban heterogeneities—often in ways that undermine the capacity of the "poor" and working classes to invent futures from the trajectories of their own struggles. Struggles that are not necessarily framed in the conventional vernaculars of justice.  Detailing dimensions of Indonesian colonial rule in Jayapura, West Papua, the article explores the notions of surrounds as a terrain of spectral war, or at least contestation, which extends the terms of Black politics to processes that are both an integral "part of" discernible struggles over rights, autonomy and "breadth" and "apart" from the terms of antagonism–a more ephemeral terrain of complicities, dissimulations, and forces, which while difficult to grasp or consciously mobilize continue to unsettle the predominant arrangements, subjecting them to spaces of incessant speculation and questioning. Blackness as way of troubling, constantly reworking the human/(non)human divide.
Suggested Reading: Introduction, The Surrounds: Urban Life Within and Beyond Capture. Duke: 2022
"Across the Pacific Rim: Architecture and Landscape in Translation" begins with what the Pacific Ocean is: a fluid place, a sea where ideas, people, and artifacts move. It questions the framing of this great body of water as a barrier or a void, concepts that are rooted in colonialism and imperialism. Instead, it posits the Pacific as an active stage for exchanging and translating ideas, concepts, materials, and technologies about constructed environments. The designers, scholars, practitioners, and activists featured in this series are situated along the Pacific Rim. They examine areas, products, and product histories along the Pacific Rim. They call on this positionality to offer exceptional, transnational, boundary-breaking, hybrid practices and research that contribute to a shared environment and a collective future.
All lectures are free, open to the public, and held in the Bernard and Anne Spitzer School of Architecture Sciame Auditorium with a remote option available.
If you are interested in attending via Zoom, please register here.
See https://www.ccny.cuny.edu/return-campus for current requirements for in-person visitors.
This lecture series is made possible by the Spitzer Architecture Fund and the generous support of Frank Sciame '74, CEO of Sciame Construction.
Blog