Events
Spring 2023 Sciame Lecture Series: Fern Lan Siew '15 & Jing Fan '12
Spitzer Alumni Panel: Different Pathways, Same Landscapes
Thursday, Mar 2, 2023
6:00 pm - 7:30 pm
Sciame Auditorium (Room 107)
141 Convent Avenue
New York, NY 10031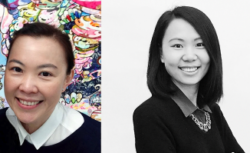 This lecture will be held in person and is part of the Spring 2023 Sciame Lecture Series, titled "Across the Pacific Rim: Architecture and Landscape in Translation." It is our second annual Spitzer Alumni Lecture.
Fern Lan Siew MLA '15 (pictured at left) is a landscape architect at NYC Parks. Prior to joining Parks, she was a Principal Researcher and Project Manager at Terreform, the urban research studio founded by Michael Sorkin. Her work at Terreform was published by UR as Gowntown: A 197-X Plan for Upper Manhattan in 2016. Her background includes bench research in plant breeding and genomics, in addition to animal science. She developed curriculum at the Nanobiotechnology Center and Cornell University, designing K-12 science kits and laboratory modules for programs that were funded by the National Science Foundation and National Institute of Health, prior to pursuing her MLA.
Jing Fan MLA '12, RLA, Associate Principal, Hargreaves Jones Landscape Architecture, has worked on a variety of high-profile projects in the United States and China, including public parks, urban plazas, campuses, and mixed-use developments. She brings a deep passion for integrating vibrant public realm landscapes with urban development so that cities and communities can thrive, supported by her professional background in both landscape architecture and urban planning. Jing has led many projects from concept design through construction documentation and implementation, including many urban landscapes built on structure. Jing led the team on Google's Charleston East Campus project in Mountain View, CA, a project that is currently under construction and will create a significant public open space for both Google employees and the local community, while re-establishing the urban ecological system. Jing also led the design of Margaret T. Hance Park Design and Development, a 32-acre Park over a US interstate highway in downtown Phoenix, AZ. The redevelopment of this existing park over the highway will provide a downtown oasis and regional destination. Jing is currently completing work on Penn's Landing Park, a 12-acre park that bridges over I-95 in downtown Philadelphia, bringing communities to the Delaware River waterfront.
"Spitzer Alumni Panel: Different Pathways, Same Landscapes": NYC Parks is the steward of over 30,000 acres of land and the principal provider of recreational and athletic facilities and programs for the City of New York. This presentation will give a brief overview of the capital process and how a park is built from design to construction and what it's like to work at the single largest employer of landscape architects in the country.
Suggested Reading: Gowntown: A 197-X Plan for Upper Manhattan by Terreform. Large Parks edited by Julia Czerniak and George Hargreaves.
"Across the Pacific Rim: Architecture and Landscape in Translation" begins with what the Pacific Ocean is: a fluid place, a sea where ideas, people, and artifacts move. It questions the framing of this great body of water as a barrier or a void, concepts that are rooted in colonialism and imperialism. Instead, it posits the Pacific as an active stage for exchanging and translating ideas, concepts, materials, and technologies about constructed environments. The designers, scholars, practitioners, and activists featured in this series are situated along the Pacific Rim. They examine areas, products, and product histories along the Pacific Rim. They call on this positionality to offer exceptional, transnational, boundary-breaking, hybrid practices and research that contribute to a shared environment and a collective future.
All lectures are free, open to the public, and held in the Bernard and Anne Spitzer School of Architecture Sciame Auditorium with a remote option available.
If you are interested in attending via Zoom, please register here.
See https://www.ccny.cuny.edu/return-campus for current requirements for in-person visitors.
This lecture series is made possible by the Spitzer Architecture Fund and the generous support of Frank Sciame '74, CEO of Sciame Construction.
Blog