Archived Video
Spring 2023 Sciame Lecture Series: Leena Cho
Archived Video
Climate Practice from Arctic Fieldwork
Thursday, Mar 16, 2023
6:00 pm - 7:30 pm
Sciame Auditorium (Room 107)
141 Convent Avenue
New York, NY 10031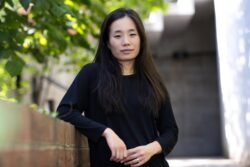 This lecture was held in person and was part of the Spring 2023 Sciame Lecture Series, titled "Across the Pacific Rim: Architecture and Landscape in Translation."
Leena Cho is an assistant professor and graduate program director in the Department of Landscape Architecture at the University of Virginia and co-director of Arctic Design Group and Kutonotuk. Her research focuses on material agencies and scientific sites in the arctic to examine emerging forms of landscape and landscape practice in an age of climate change. Her design research has been funded by numerous organizations such as the Anchorage Museum, the U.S. National Science Foundation, and the World Bank, and has been exhibited nationally and internationally including at the Smithsonian National Museum of American History and Venice Architecture Biennale. She received her MLA from Harvard University and BA from Wellesley College.
"Climate Practice from Arctic Fieldwork": Extreme environments and amplified climate experiences such as in the Arctic offer what environmental historians Pei-Yi Chu and Andrew Stuhl (2017) call a "curious discord"—a productive agitation of landscape preconceptions and (design) norms often formed in temperate worlds and the necessary unsettling to imagine new environmental futures in an age of climate change. The lecture will focus on Alaska, a territory that extends from the Pacific Rim to the Arctic Ocean, as an example that agitates and expands our material-temporal conceptions of space as well as modes of landscape inquiry and practice. By sampling recent design research that bridges humanities and science and foregrounds different forms of collaborations, the talk will highlight ways to probe climates, and shape climate knowledge and landscape.
Suggested Reading: "The Perennial Solidity of Water," Journal of Architectural Education, 74:1, p. 120-122.
"Across the Pacific Rim: Architecture and Landscape in Translation" begins with what the Pacific Ocean is: a fluid place, a sea where ideas, people, and artifacts move. It questions the framing of this great body of water as a barrier or a void, concepts that are rooted in colonialism and imperialism. Instead, it posits the Pacific as an active stage for exchanging and translating ideas, concepts, materials, and technologies about constructed environments. The designers, scholars, practitioners, and activists featured in this series are situated along the Pacific Rim. They examine areas, products, and product histories along the Pacific Rim. They call on this positionality to offer exceptional, transnational, boundary-breaking, hybrid practices and research that contribute to a shared environment and a collective future.
All lectures are free, open to the public, and held in the Bernard and Anne Spitzer School of Architecture Sciame Auditorium with a remote option available.
If you are interested in attending via Zoom, please register here.
See https://www.ccny.cuny.edu/return-campus for current requirements for in-person visitors.
This lecture series is made possible by the Spitzer Architecture Fund and the generous support of Frank Sciame '74, CEO of Sciame Construction.
Blog