Events
Spring 2023 Sciame Lecture Series: Min Kyung Lee
Wig Spaces: Korean Migration and the African American Street
Thursday, Mar 9, 2023
6:00 pm - 7:30 pm
Sciame Auditorium (Room 107)
141 Convent Avenue
New York, NY 10031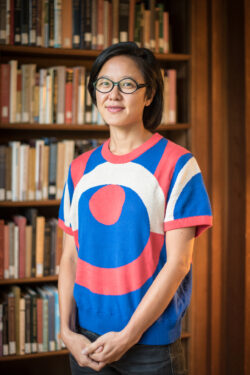 This lecture will be held in person and is part of the Spring 2023 Sciame Lecture Series, titled "Across the Pacific Rim: Architecture and Landscape in Translation."
Min Kyung Lee, Ph.D., is an Associate Professor of Modern Architecture in the Growth and Structure of Cities at Bryn Mawr College. Her first book, The Tyranny of the Straight Line: Mapping Modern Paris (Yale University Press, forthcoming 2024) outlines the cartographic survey of the French capital during the nineteenth century. Her current research is on spaces of Korean migration during the Cold War in a project titled, Mapping Wigs and Plywood: Korean Migration and the African-American Landscape. At present, she is a New Directions Mellon Foundation Fellow and associate research fellow at The Heyman Center for Humanities at Columbia University.
"Wig Spaces: Korean Migration and the African American Street": Following the Korean War, the military government of South Korea sponsored specific industries to improve the dire post-war economic situation. Central to this strategy was to identify export goods that optimized local resources and knowledge, and that targeted international markets. Among those exports were wigs, and by the sixties, Seoul became the global center for wig manufacturing, relying on its own female population for hair supplies and cheap labor. These wigs were exported to the US and specifically targeted the growing consumer market of African American women who had settled in northern cities since the Jim Crow era. Wig stores were run by new Korean immigrants in urban neighborhoods that were in the process of becoming increasingly Black with white flight to the suburbs and red-lining practices. Parallel to the racial and ethnic shifts in American cities, South Korea was also facing social change in which the women toiling in wig factories started to protest their working conditions. Their political actions would eventually mark the beginning of the South Korean democracy movement. This presentation connects the migration stories of Koreans to those of African Americans, focusing on their shared spatial practices in wig stores during Cold War in the US.
Suggested Readings: Park, Kyeyoung. The Korean American Dream: Immigrants and Small Business in New York City. Ithaca, Cornell University Press, 2018.
Lee, Jennifer. Civility in the City: Blacks, Jews, and Koreans in Urban America. Cambridge, MA: Harvard University Press, 2002.
"Across the Pacific Rim: Architecture and Landscape in Translation" begins with what the Pacific Ocean is: a fluid place, a sea where ideas, people, and artifacts move. It questions the framing of this great body of water as a barrier or a void, concepts that are rooted in colonialism and imperialism. Instead, it posits the Pacific as an active stage for exchanging and translating ideas, concepts, materials, and technologies about constructed environments. The designers, scholars, practitioners, and activists featured in this series are situated along the Pacific Rim. They examine areas, products, and product histories along the Pacific Rim. They call on this positionality to offer exceptional, transnational, boundary-breaking, hybrid practices and research that contribute to a shared environment and a collective future.
All lectures are free, open to the public, and held in the Bernard and Anne Spitzer School of Architecture Sciame Auditorium.
Please note this lecture will not be available remotely (via Zoom). 
See https://www.ccny.cuny.edu/return-campus for current requirements for in-person visitors.
This lecture series is made possible by the Spitzer Architecture Fund and the generous support of Frank Sciame '74, CEO of Sciame Construction.
Blog