Events
The Mumford Lecture: Current Work From "The Architect for the Poorest of the Poor", Featuring Yasmeen Lari
Archived Video
Current Work From the Architect for the Poorest of the Poor
Thursday, Apr 7, 2022
10:00 am - 11:00 am
Online - Zoom meeting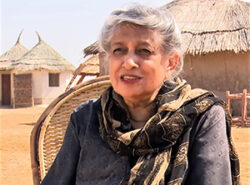 This lecture is in the past and was presented via Zoom.
The speakers have kindly agreed to make a recording of this talk available here. See above, or on YouTube.
Watch the Seminar with Yasmeen Lari and Spitzer Students on YouTube.

Please join us on April 7, 2022 at 10a.m. for our prestigious Mumford Lecture. This year we have the honor to welcome Pakistan's first female architect, Yasmeen Lari, who will be speaking about groundbreaking work in her lecture "Current Work, The Architect for the Poorest of the Poor".⁠
There will also be a smaller student Zoom seminar with Mrs. Lari on Friday 4/8 at 11AM, which she has generously offered to open to the public. [For this smaller Q&A, RSVP here.]
⁠
The Mumford Lecture is part of the 2022 Spring Sciame Lecture Series, themed "Radical Black Space" and is free & open to the public.
This year's Mumford Lecture is being convened by Kishwar Rizvi of Yale University and will feature Pakistan's first female architect, Yasmeen Lari.
SPEAKER INFO
Yasmeen Lari is Pakistan's first female architect. Born in 1941 in the town of Dera Ghazi Khan, Mrs. Lari spent much of her childhood in Pakistan before moving to London at 15 years old. She graduated from the Oxford School of Architecture in 1964 at the age of 23, and later returned to Pakistan with her husband to open their practice, Lari Associates, in Karachi.  Since her retirement in 2000, Mrs. Lari has remained active in the architecture community, serving as an advisor to UNESCO, as the executive director of Heritage Foundation Pakistan, and as the chairperson of the Karavan Initiatives. She is also known for her social justice and advocacy, and as of 2014, had built some 36,000 houses for those affected by Pakistan's floods and earthquakes.
Suggested Reading: Community Read Activity w/ Spitzer Community
Some of Mrs. Lari's awards and titles include:
Chair & CE, Heritage Foundation of Pakistan
Trustee, Transparency International-Pakistan
Founder Chair, INTBAU Pakistan
2002 - UN Recognition Award for the promotion of culture and peace
2006 - Sitara-e-Imtiaz Award, one of the highest civil awards by the Government of Pakistan, in recognition of her services to the architectural profession and to the heritage conservation of historical sites in Pakistan
2011 - Pakistani "First Wonder Women of the Year Award"
2013 - Islamic Development Bank Prize Laureate
2016 - Fukuoka Prize for Arts & Culture
2018 - World Habitat Award
2020 - Jane Drew Price, given to an "architectural designer who, through their work and commitment to design excellence, has raised the profile of women in architecture."
About the Mumford Lecture:



Each spring, the Spitzer School of Architecture and its Urban Design Program present the Lewis Mumford Lecture and seminar. Named for writer, architecture critic, and urbanist Lewis Mumford, who attended City College, the series invites the world's most distinguished urbanists to speak freely and publicly about the future of cities and the social purposes of architecture. This series was initiated by the late Michael Sorkin, distinguished professor of architecture and director of the Urban Design Program at the Spitzer School, and curated by him for eleven years.
Previous Mumford Lecturers:
2004 Jane Jacobs
2005 Mike Davis
2006 Enrique Peñalosa
2007 Amartya Sen
2008 David Henry
2009 Paul Auster
2011 Richard Sennett
2012 Janette Sadik-Khan
2013 Marshall Berman
2014 Theaster Gates
2015 Rebecca Solnit
Bio Sources: Architect Magazine, Wikipedia

Blog