Publications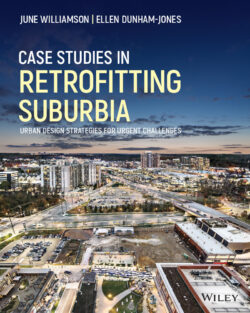 Case Studies in Retrofitting Suburbia
Urban Design Strategies for Urgent Challenges
June Williamson and Ellen Dunham-Jones
Case Studies in Retrofitting Suburbia: Urban Design Strategies for Urgent Challenges, by CCNY Associate Professor and Architecture Department Chair June Williamson and her longtime collaborator Professor Ellen Dunham-Jones of Georgia Tech, was published in late January (Wiley). The next book in the groundbreaking Retrofitting Suburbia series, it presents 32 new case studies documenting successful retrofits of underperforming suburban property types into more just, healthy, and prosperous places.
The first in the Retrofitting Suburbia series (2009) sparked a national dialogue on transforming and revitalizing our nation's communities, including what to do with the plethora of America's dying malls. The book earned critical renown and was featured in The New York Times, CBS, NPR, TED, Time, The Wall Street Journal and USA Today. The Chicago Tribune called it "the Bible of the retrofitting movement."
"Our ambition [in writing this book] was to engage with a larger, continuing set of challenges, given that suburbia is the United States," said author June Williamson in a recent article in The New York Times. "Suburbs are us. They're where the majority of people work, where they live."
The new volume presents detailed case studies that address six crucial challenges facing communities today: 1) improving public health, 2) increasing resilience in the face of climate change, 3) leveraging social capital for equity, 4) supporting an aging society, 5) competing for jobs, and 6) disrupting automobile dependence.
Most recently, Williamson and Dunham-Jones were interviewed by VICE and Williamson was a guest on WNYC's All Of It with Alison Stewart.
For more information visit the Retrofitting Suburbia website.
Blog