Faculty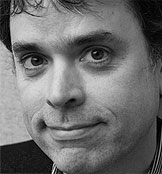 Educational Credentials :
M. Arch., Yale University, 1994
B. Design, University of Florida, 1991
Teaching Experience :
Associate Professor, City College of New York, CUNY, 2012-present
Assistant Professor, City College of New York, CUNY, 2006-2012
Instructor, City College of New York, CUNY, 2000-2006
Professional Experience :
Sole practitioner, 2006-present
Pouder Design Group, 2003-2005
Peter Gisolfi Associates, 2002
Voorsanger Associates, 2000
Richard Sturgeon Studio, 1999-2000
CWB Architecture, 1999-2000
Francois deMenil, Architect, 1998
George Ranalli, Architect, 1996-1999
Balmori Associates, 1994-1996
Licenses/Registration :
Architecture License, New York State
Selected Publications and Recent Research :
Broadway: A History of New York City in Thirteen Miles (W. W. Norton, 2018)
AIA Guide to New York City, Fifth Edition, with Norval White and Elliot Willensky (Oxford University Press, 2010)
"The Aleatoric Studio: Embracing Chance and Risk in First-Year Design," 99th Annual ACSA Conference Proceedings, March 3-6, 2011.
"Bloomberg Makes Space in New York: Studying the Transformation of Place in New York Under the Bloomberg Administration," book review of Bloomberg's New York: Class and Governance in the Luxury City by Julian Brash, Architect's Newspaper, January 19, 2011.
"Inspecting the Green City," Oculus, Fall 2009.