Lectures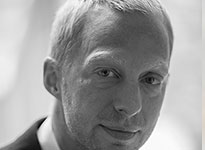 SCALAR ECOLOGIES: Form as Unknown (X)
HOLGER SCHULZE-EHRING
Thursday, February 4, 2016
Introduction: Dominick Pilla
Holger Schulze-Ehring applies his cross-disciplinary expertise in advanced engineering and architecture to the design of unique, inventive, and complex structures and award-winning projects. Uniting his strong technical and creative background he works as a structural designer with renowned architects and artists on landmark cultural buildings, transportation hubs, bridges, and art projects. His signature work includes the World EXPO Milano 2015 China Pavilion in Milan, Italy; World Trade Center Transportation Hub in New York, NY; Museu do Amanha in Rio de Janeiro, Brazil; Denver International Airport extension in Denver, CO; BBC Broadcasting House in London, England; and Spire of Hope, St. Anne's Cathedral in Belfast, Ireland.
Applying his training and research in both structural engineering and architecture, he has been an adjunct professor, guest lecturer, critic, and juror at numerous universities, including Cornell University, Columbia University, Princeton University, Manhattan College, and University of Pennsylvania.
All lectures are free, open to the public, and held at 6:30 pm in the Bernard and Anne Spitzer School of Architecture Sciame Auditorium. Continuing Education Credit for registered New York architects is available.
Lecture series sponsored by Sciame . . . Where Building Is an Art.
Blog