Lectures
Anthropocene: LYDIA KALLIPOLITI
Endangered Pieces of Nature and the Architecture of Closed Worlds
Thursday, Nov 10, 2016
6:30 pm - 8:00 pm
Sciame Auditorium (Room 107)
141 Convent Avenue
New York, NY 10031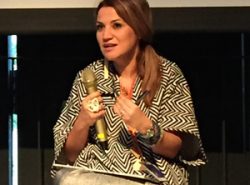 Introduction: Denise Hoffman Brandt, Director of MLA Program
Lydia Kallipoliti is an architect, engineer and theorist, currently an Assistant Professor of Architecture at currently an Assistant Professor of Architecture at Rensselaer Polytechnic Institute (RPI). Her research on the intersection of cybernetic and ecological theories crossbreeds scholarship with a variety of media including online digital platforms, lexicons, databases and archives, exhibitions and holographic animations, with the scope of engaging a wide audience in what she calls 'immersive scholarship.' She is the recipient of numerous awards most notably, a silver medal in the W3 awards for digital innovation in environmental awareness, an honor at the 14th Webby Awards, a Grant from the Graham Foundation, a prize from the Shenzhen Biennale, the Lawrence Anderson Award for the creative documentation of architectural history, and the High Meadows Sustainability Fund. Her work has been exhibited widely and published internationally in magazines and books including Log, AD, Praxis, Domus, Future Anterior, The Cornell Journal of Architecture, Architecture Theory Review, Pidgin, The Journal of Architectural Education and several books. Kallipoliti is the founder of EcoRedux, an innovative online open–source educational resource documenting the history of ecological experimentation and ANAcycle thinktank in Brooklyn, New York. Her most recent research project, "Closed Worlds", opened at the Storefront for Art and Architecture in February 2016 and was reviewed by Wired magazine, Dissegno Daily, The Observer and ViCE the Creator's Project. Kallipoliti holds a SMArchs from MIT and a PhD from Princeton University.
All lectures are free, open to the public, and held at 6:30 pm in the Bernard and Anne Spitzer School of Architecture Sciame Auditorium. Continuing Education Credit for registered New York architects is available.
Lecture series sponsored by Sciame . . . Where Building Is an Art.
Blog