Lectures
Anthropocene: RANIA GHOSN
Geostories
Thursday, Oct 13, 2016
6:30 pm - 8:00 pm
Sciame Auditorium (Room 107)
141 Convent Avenue
New York, NY 10031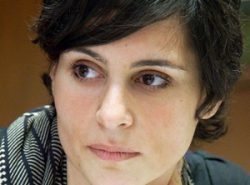 Presented in association with Archtober, Architecture and Design Month New York City October 2016
Introduction: Elisabetta Terragni, Associate Professor
Rania Ghosn is assistant professor at MIT School of Architecture + Planning and partner with El Hadi Jazairy of DESIGN EARTH. Her collaborative practice engages the geographies of environmental systems to open aesthetic and political concerns for architecture and urbanism. DESIGN EARTH has been recognized with several awards, including Architectural League of New York Young Architects and the Jacques Rougerie Competition First Prize. Their work was exhibited in international venues, including MIT Keller Gallery, Venice Biennale, Oslo Architecture Triennale, and Sursock Museum. Ghosn is founding editor of New Geographies and editor-in-chief of NG2: Landscapes of Energy. She is co-author of Two Cosmograms (MIT SAP, 2016) and Geographies of Trash (ACTAR, 2015), for which she was awarded an ACSA Faculty Design Award. Some of her recent essays are published in journals, including Perspecta, [bracket], MONU, Journal of Architectural Education, San Rocco, Avery Review, Volume, ARQ. Ghosn holds a Doctor of Design from Harvard University Graduate School of Design, a Master in Geography from University College London, and a Bachelor of Architecture from American University of Beirut.
All lectures are free, open to the public, and held at 6:30 pm in the Bernard and Anne Spitzer School of Architecture Sciame Auditorium. Continuing Education Credit for registered New York architects is available.
Lecture series sponsored by Sciame . . . Where Building Is an Art.
Blog