Lectures
Sciame Lecture Series: Faculty Pecha Kucha
Thursday, Oct 5, 2017
6:30 pm - 8:00 pm
Bernard and Anne Spitzer School of Architecture
141 Convent Avenue
New York, NY 10031
Sciame Auditorium (107)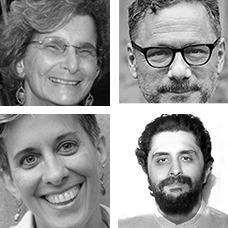 Introduction: Julio Salcedo-Fernandez
Brief presentations and discussions featuring SSA faculty:
Marta Gutman, Coordinator, History/Theory; Professor
Ali C. Höcek, Adjunct Associate Professor
Susan Wines, Adjunct Associate Professor
Ali Askarinejad, Director of Fabrication Labs; Adjunct Assistant Professor
Originated in Japan, Pecha Kucha is a presentation style in which 20 slides are shown for 20 seconds each (6 minutes and 40 seconds in total), with slides advancing automatically.  The format keeps presentations tight, focused, and fun!
Selected Bibliography: Fall 2017 Lecture Series: "Transdisciplinary"
All lectures are free, open to the public, and held at 6:30 pm in the Bernard and Anne Spitzer School of Architecture Sciame Auditorium. Continuing Education Credit for registered New York architects is available.
Lecture series sponsored by Sciame . . . Where Building Is an Art.
Blog