Archived Video
Society for American City & Regional Planning History 2022 Harlem Conference Keynote: Paul Farber
Archived Video
After Permanence
Thursday, Oct 20, 2022
6:00 pm - 7:30 pm
Sciame Auditorium (Room 107)
141 Convent Avenue
New York, NY 10031
Zoom option available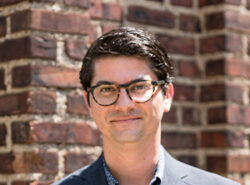 This special lecture is held in-person and is co-sponsored by the Society for American City and Regional Planning History as the keynote for the SACRPH 2022 Harlem Conference.
Paul Farber is Co-founder and Director of Monument Lab. He is author of A Wall of Our Own: An American History of the Berlin Wall and co-editor of Monument Lab: Creative Speculations for Philadelphia. He also serves as senior research scholar at the Center for Public Art & Space at the University of Pennsylvania's Weitzman School of Design.
Dean Marta Gutman will introduce the speaker.
Suggested Reading:
Preface/Next Steps from National Monument Audit: Preface on pp. 3-8 and Postscript on p. 29
"After Permanence" focuses on rituals of public memory and the evolving monument landscape. Dr. Farber, who directs and co-founded Monument Lab, a renowned public art and history studio who produced the landmark National Monument Audit, shares insights and field notes from the places where a new generation of monuments are emerging including Montgomery, New York City, Los Angeles, Philadelphia, and beyond. In his talk, drawing from a new book project of the same name, Dr. Farber contends we must re-envision and build a more just, accurate, and healing future through monuments that are meant to evolve and adapt through time. Farber weaves historical research, memoir, and travelog to challenge the binaries of "permanent" and "temporary," "past" and "future," "preservation" and "change," to grasp the story of a monument landscape pulled between stasis and change. From on and off the pedestal, Farber summons a fresh view of history in process, with an eye on the future of memory emerging all around us, while illuminating how we can repair and reimagine how history lives with us every day.
All lectures are free, open to the public, and held in the Bernard and Anne Spitzer School of Architecture Sciame Auditorium with remote option available. See https://www.ccny.cuny.edu/return-campus for current requirements for in-person visitors.
For remote viewing via Zoom, please register here.
Blog