Lectures
Sciame Lecture Series: Javier García-Germán
Climatic Typologies: From Thermodynamics to Everyday Life
Thursday, Nov 15, 2018
6:30 pm - 8:00 pm
Bernard and Anne Spitzer School of Architecture
141 Convent Avenue
New York, NY 10031
Sciame Auditorium (107)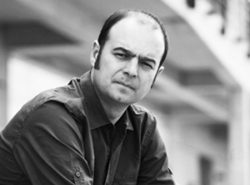 Javier García-Germán
Introduction by Assistant Professor Ahu Aydogan Akseli
Javier García-Germán (1974) is Associate Professor of Architectural Design at the Madrid School of Architecture (ETSAM) since 2007. He is director of the Architecture and Post-Sustainability module in the Master's Degree in Collective Housing (ETH Zürich & UPM) and director of Ecological Urbanism module in the Master in City Sciences (UPM).
Javier García-Germán studied architecture at the ETSAM (Honors), the Oxford School of Architecture, and at the Harvard University Graduate School of Design (Master in Design Studies), where he was a Fulbright Scholar. He received his PhD in architecture — Thermodynamic Environments: A Critical Cartography on Energy, Architecture and Atmosphere — at ETSAM (2014).
In 2005 he founded TAAs — totem arquitectos asociados — an award-winning practice based in Madrid that explores the connections between climate, architecture and users. TAAs is currently building an office complex in Madrid and will start constructing a 159-unit collective housing building that has been on show on the 2018 Venice Biennale.
In addition, García-Germán has authored several articles in international periodicals (Quaderns, Bauwelt, 2G, etc.) and edited and authored several books on energy and architecture, among others Thermodynamic Interactions: An Architectural Exploration into Physiological, Material and Territorial Atmospheres (2017, ACTAR), FAD award 2018 and XIII Spanish Architecture and Urbanism Biennial award; De lo Mecánico a lo Termodinámico (2010, Gustavo Gili); and Contextos 2008: Hacia un Nuevo Entorno Energético (2008, UCJC).
All lectures are free, open to the public, and held at 6:30 pm in the Bernard and Anne Spitzer School of Architecture Sciame Auditorium. Continuing Education Credit for registered New York architects is available.
Lecture series sponsored by Sciame . . . Where Building Is an Art.
Blog