Lectures
Sciame Lecture Series: Sumayya Vally + Sarah de Villiers of Counterspace
Countercurrents
5:30 pm - 7:00 pm
Bernard and Anne Spitzer School of Architecture
141 Convent Avenue
New York, NY 10031
Sciame Auditorium (107)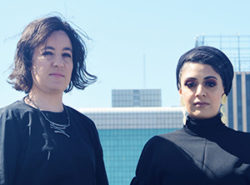 Counterspace are the winners of the 2020 Serpentine Pavilion competition, the youngest architects ever to win this prestigious award.* Based in Johannesburg, they are a collective studio of young architecture graduates established in 2014 by Sumayya Vally (pictured at right), Sarah de Villiers (pictured at left), and Amina Kaskar. All three combine teaching with practice, teaching at the Graduate School of Architecture (Vally, de Villiers) and Wits University (Kaskar). Their work is predominantly concerned with ideas of the future and of "otherness." They are dedicated to research-based projects, which take the form of exhibition design, competitions, urban insurgency, and public events.
Hosted by Lesley Lokko.
*In light of this award announcement in February 2020, this lecture was postponed from its original date of March 5 in order to respect the press embargo that will stay in effect until the completion of the Pavilion.
The spring 2020 SCIAME lecture series at Spitzer includes a full line-up of lectures, symposia, and special events that highlight our commitment to climate, environmental, and social justice. Under the broad umbrella of "Climate Justice: Time to Think, Talk and Make Change," we've put together a truly global series of speakers. All lectures are free, open to the public, and held in the Bernard and Anne Spitzer School of Architecture Sciame Auditorium. Continuing Education Credit for registered New York architects is available.
Lecture series sponsored by Sciame . . . Where Building Is an Art.
Blog