Lectures
Sciame Lecture Series: Elizabeth Bowie Christoforetti
Supernormal
Thursday, Feb 8, 2018
6:30 pm - 8:00 pm
Bernard and Anne Spitzer School of Architecture
141 Convent Avenue
New York, NY 10031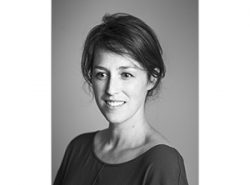 Faculty Intro: Loukia Tsafoulia, Adjunct Assistant Professor
Elizabeth Bowie Christoforetti is design director and founder of Supernormal, a practice that bridges the disciplines of architecture, urban design, and planning, with the goal of bringing increased sensitivity and systematization to urban development using improved quantitative methods. This approach requires careful attention to urban systems and the constraints of real estate development, and prioritizes methods of understanding and projecting change over time and change over location as first principles in design practice.
Elizabeth received a Master in Architecture with Distinction from the Harvard University Graduate School of Design, where she now teaches design studios in the Architecture department. She also holds degrees from Bowdoin College and The Art Institute of Chicago. From 2014-2016, Elizabeth conducted research within the Social Computing Group at the MIT Media Lab, where she utilized emerging technologies to better align human experience with urban development.
All lectures are free, open to the public, and held at 6:30 pm in the Bernard and Anne Spitzer School of Architecture Sciame Auditorium. Continuing Education Credit for registered New York architects is available.
Lecture series sponsored by Sciame . . . Where Building Is an Art.
Blog