Visiting Professors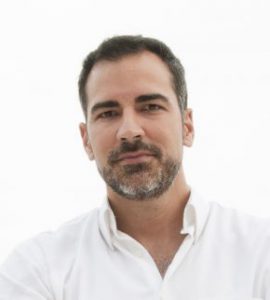 Iñaqui Carnicero
Visiting Critic - Spring 2018
Biography :
Iñaqui Carnicero is a practitioner architect and educator graduated from the School of Architecture of Madrid (ETSAM 1999) where he also obtained his International Ph.D. (2016). Awarded with the Fellowship of the Royal Spanish Academy he spent one year in Rome developing his Phd dissertation on "Louis Kahn and Robert Venturi's Coincidentes, from Gianicolo to Chestnut Hill".

His academic experience includes 12 years as professor at E.T.S.A.M. Polytechnic University of Madrid, and several invitations as Visiting Professor at Cornell University, California College of the Arts and Columbia University.

His work has been recognized recently with the Golden Lion at the Venice Architecture Biennale 2016 for the design and the co-curation of the Spanish Pavilion with the exhibition Unfinished. Other awards include the AIA-New York Housing Award 2015, Design Vanguard Award 2012, Hauser Award 2012, Emerging Architecture Award Architectural Record 2011, COAM Award 2012 and 2013, FAD Architecture and Public Opinion Award 2012.

Carnicero has won several international competitions resulted in built projects, including Hangar 16 Matadero-Madrid at the former Slaughterhouse, CEU Polytechnic University, 39 Social Housing in Vallecas, Don Bosco High School in Albacete, Restoration of an Arab tower in Guadalajara, Pitch House in Madrid and "English for Fun" headquarters in Madrid.

He has lectured at several universities and institutions such as: Documenta Kassel 2017, Politecnico di Milano, Catholic University of Chile, Roma Tre University, Monterrey CEDIM, California College of the Arts, IUAV di Venezia, Days of Oris 2016 in Zagreb, the Maxxi Museum in Rome, M.I.T., Harvard GSD, Cornell, and ETSAB in Barcelona among others.

He is currently the Director of the young architects program Arquia Proxima 2017-18 and co-chair of ACSA Internacional Conference 2018.

In 2012 he founded Rica Studio together with his partner Lorena del Rio.