Chair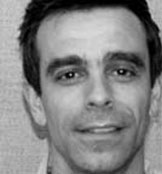 Educational Credentials :
M.Arch., Harvard University, 1997
B.A., Architecture, Rice University, 1992
Design Workshops, Universidad Complutense, 1990, 1992
Teaching Experience :
Associate Professor, City College of New York, CUNY, 2007-present
Adjunct Professor, Harvard University, 2001; 2003; 2004
Associate Professor, Syracuse University, Fall 2004; Spring 2005
Visiting Professor, University European, Madrid, 2006
Adjunct Professor, University of Pennsylvania, 2006
Adjunct Professor, Cornell University 2007
Invited to teach Architecture, MIT, 2004; 2005; 2006
Critic at Harvard, Yale, Princeton, Penn, Columbia, MIT, Georgia Tech, University of Toronto, UPR, EUM, Pratt, Cornell, Syracuse
Professional Experience :
Principal, Scalar Architecture, PC, New York, 2001-present
Associate, B&R Projects, New York, 2001
Project Architect, (Richard Cook) Cook and Fox, New York, 1999-2000
Senior Designer, SOM, New York, 1997-1999
Project Architect, Rafael Moneo, Madrid, Spain, 1993, 1997
Designer, Machado Silvetti Associates, Boston, MA, 1992-1993
Licenses/Registration :
Architecture License, New York State, 2001
European Union Registered Architect, COAM, 2004
Selected Publications and Recent Research :
Salcedo, Julio. Specific Generic Continuum, Oscar Riera Ojeda Publishers, PA, USA. 2011. Foreword by Luis Rojo. Essay by Ivan Rupnik.
Salcedo, Julio –co-author. Foreword Craig Konyk. Instability. Princeton Architectural Press, New York. 2007. Pages: 150-176.
Architectural Record, Interior Design, The Architects Newspaper, Frame, Space and Design, Bauwelt,
Arquitectura, B-1, Futures, Byggenkunst, Ha, The Globe and Mail, Pasajes, House Beautiful, Europan,
AV, Landscape Architecture, Archdaily, Metalocus.
Professional Memberships :
LEED AP
COAM
Young Architect winner- Architectural League
Europan 6 winner
Fellow – Real Colegio Complutense Harvard University
Courses
ARCH 47100: Design Studio 3
ARCH 48100/86100: Advanced Studio
ARCH 74100: Architecture Studio 1.4
ARCH 85600: Architectural Management