Faculty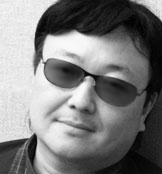 Educational Credentials :
Ph.D., Union Institute and Universities, 1996
M.Arch., Pratt Institute, 1991
B.Arch., Pratt Institute, 1989
Teaching Experience :
Assistant Professor, City College of New York, CUNY, 1999-present
Adjunct Professor, Queens College, CUNY, 2000-2002
Teaching Assistant, Pratt Institute, 1989-1990
Professional Experience :
Chief Operation Manager, International Architects Group, 2007-present
President, E-learning Consultants, 2002-present
Principal, Hypnos Design, 1996-present
Design Coordinator, EBASCO Services, 1991-1993
Selected Publications and Recent Research :
Computer Rendering in Architecture: Mental Ray, V-Ray, and 3ds Max, Routledge, forthcoming 2016.
Objects: Design and Craft within Spaces, Oscar Riera Ojeda Publishers, forthcoming 2016.
In Situ: George Ranalli Works & Projects, various renderings, Oscar Riera Ojeda Publishers, 2015.
Found Space: A Therapeutic Journey to Urban Resurrection, Infinity Publishing, 2003.
"Cinematic Allusions to Literary Works: The Commentary on Fritz Lang's Metropolis," CCNY Morris R. Cohen Library Exhibition, 2003.
"I Dream of Genie in Virtual Space: A Study of Emerging Digital Technologies in Architecture," Symposium: Virtual Recreations of the Destroyed, the Altered and the Never Built, University of Cincinnati-CERHAS, 2005.
"Do We Dream of Electric Sheep in Cyberspace?" ACSA Central Regional Conference Proceedings, Elgin, Illinois, 2004.
"A Constant Evolution - A Glimpse at the 21st Century Education in Building Construction Systems Technology," Connector, 2004.
Professional Memberships :
ARCADE Organization (Advanced Research: Computer Design & Research), President, 2009
American Society of Civil Engineers, Affiliate Member, 2009
3DS User Group, Member, 2006
The Association for Computer Aided Design in Architecture (ACADIA), Member, 2003
WHO'S WHO Historical Society for inclusion in the 2001-2002 Edition of International WHO'S WHO of Professionals, 2002
International Edition of the Who's Who on The Web Directory (acknowledges individual, websites and companies distinguished by their professionalism, success, and achievements), 2002
The MicroStation Community (TMC), Member, 2001
The New York City Chapter of the MicroStation Community, Member, 2001
Visual CADD Group, Member, 2001
2000 EFNET AutoDesk User Group (E.A.U.G.), Member, 2000