Lectures
Sciame Lecture Series: Ferda Kolatan
In Pursuit of the Allusive Object: A Case for an Ambiguous Architecture
Thursday, Mar 21, 2019
5:30 pm - 7:00 pm
Bernard and Anne Spitzer School of Architecture
141 Convent Avenue
New York, NY 10031
Sciame Auditorium (107)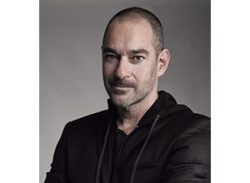 Faculty Intro: Jeremy Edmiston, Associate Professor
Ferda Kolatan is currently an Associate Professor of Practice at PennDesign, and has previously taught and lectured in the United States and abroad. Kolatan holds professional degrees from RWTH Aachen University and Columbia University, where he received the Honor Award for Excellence in Design and the LSL Memorial Prize. 
Kolatan is co-founder and director of SU11 Architecture+Design, an award-winning practice located in Brooklyn, NY. SU11 combines innovative design research with real-world application at various scales, ranging from art objects to buildings and urban design. SU11 projects were published and exhibited at the Museum of Modern Art, Walker Art Center, Vitra Design Museum, PS1, Archilab Orleans, Artists Space NY, and the SCI-Arc Gallery. SU11 has also participated in the Venice, Beijing, and Istanbul Biennales.  
Kolatan has co-authored Meander: Variegating Architecture (2010) and published numerous articles. In 2017, he received a Gold Medal from the Cultural Ministry of Egypt; and in 2011, the American-Turkish Society selected Kolatan as a Young Society Leader. He is also the recipient of the AIA ARCHITECT Studio Prize for the research produced from his Cairo-themed studio at PennDesign. 
All lectures are free, open to the public, and held at 5:30 pm in the Bernard and Anne Spitzer School of Architecture Sciame Auditorium. Continuing Education Credit for registered New York architects is available.
Lecture series sponsored by Sciame . . . Where Building Is an Art.
Blog